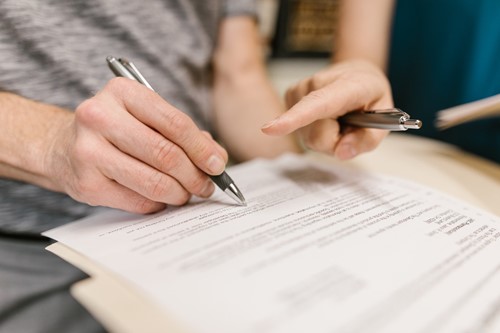 When you decide to have a new home built, you'll need to find a builder and sign a contract with them. Since home construction is a complex process, it's important to make sure you understand your home building contract before signing it. What should you expect to see on one of these contracts? You should make sure your contract includes the following information. If not, you should have the builder revise the contract to include this information before you sign it.
Estimated Timeframe
Your contract should include information on the estimated timeframe for your home building project. It should show when construction is scheduled to start and when it is scheduled to end. You should also see details on when different phases of the project are scheduled to take place. Keep in mind that delays can happen for several reasons, such as adverse weather, labor shortages, material shortages or inspection delays. However, if these conditions do not occur, your builder should make every effort to complete your project within the scheduled timeframe.
Scope of the Project
Your home building contract should provide you with detailed information on the services that are included. This goes beyond the actual building process. Your builder should also state that they are performing any other tasks that are needed for your project, such as obtaining permits and providing materials, equipment and labor. Your contract should also show that the builder agrees to follow the house plans and specifications and will not make any changes or modifications to these without consulting you. This helps ensure that you'll get the exact house you're expecting.
Payment Details
Your contract should include details on payment, including when each payment is due, how much is due and how payments should be made, such as by check. You should also make sure your contract from the builder includes detailed information on all the fees and costs for your project. This helps you understand what you're paying for, so you can ask questions or point out errors if needed. Your final payment might be due when your project is considered substantially completed. Since this interpretation can differ, your contract should provide a clear definition of substantial completion.
Project Scope Changes
If you change your mind about certain features or other components of your new home, such as wanting to adjust a room's layout, add a window or have a custom feature installed, the contract should address this. Your contract should provide information on how these changes will be handled. For example, your contract might state that you will need to provide written documentation with approval from both you and your builder to change facets of your project. Keep in mind that your builder might want to make changes during the project. Having this section in your contract stops your builder from doing these without your approval.
Inspections
You should be able to check on the progress of your home construction project. Your contract should state that you may do this, as long as you plan to stop by at reasonable times, depending on the specific work that is going on. These inspections give you a chance to make sure your project is going as planned and bring up any issues you might have with the builder.